Quick and Easy Kale Salad with Homemade 5-Ingredient Salad Dressing
Invited to a 4th of July BBQ? Not sure what to bring? Sure, it would be easy to bring a bag of chips or a bowl of potato salad. But what if you are trying to eat well and enjoy the holiday too? Here is a quick and easy kale salad you can bring that is sure to be a hit (I have gotten so many requests from friends to bring this salad to social events).
Aside from the kale, all of the other ingredients are optional. Add anything or substitute an ingredient, if you would like! Do you not have the ingredients for the dressing handy? No problem, you really just need a fat and an acid. You may use extra virgin olive oil and squeezed lemon juice instead.
Ingredients list for salad:
1 bunch of kale (the curly kale)
1 cucumber
15/20 mini carrots
1 bunch of radishes
3 green onions
1 can hearts of palm
10-15 grape tomatoes
Ingredients list for 5-ingredient salad dressing:
1/3 cup grapeseed oil
4 tablespoons apple cider vinegar
dash of garlic powder
dash of pepper dash of salt
Directions for salad: Wash and chop all the ingredients. Make sure to remove the "leafy" part of the kale from the stem (throw those stems in the compost!). (You may save some of the ingredients for later use if you are not planning on making a giant kale salad for a party.) Drain and chop the hearts of palm. Add all the ingredients; toss in the salad bowl!
Directions for salad dressing: Put all ingredients in a small bowl. Mix with a fork. You may taste and add more of any ingredient, as desired. It is fairly difficult to ruin this dressing, so feel free to experiment.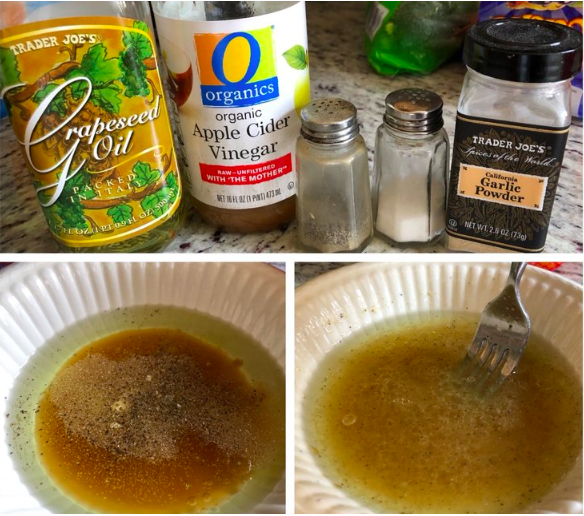 Pictured above in the top photo: Salad dressing ingredients, Pictured on the bottom left photo: ingredients in bowl before mixing, Pictured on the bottom right: After mixing, you have a delicious salad dressing!
Pour dressing on salad! Add anything to the salad that you wish. Depending on what is in the cabinet or refrigerator, I add chickpeas, avocado, pumpkin seeds, feta, a few cashews or sesame seeds (make sure to keep those out if you are unsure about food allergies).
You can eat this salad with some grilled chicken or whatever fare is available at the 4th of July BBQ. I hope you have a fantastic holiday!